Kahalan Ambassador Presented Portrait of her Likeness
Annotation 9 immediately follows Annotation 8, preceding Annotation 10. The annotation occurs in the break between Chapters 2 and 3.
The newspaper clip features the full Kahalan Ambassador Presented Portrait of her Likeness news article, along with snippets of other news stories. In the post below, the creator provided the entire article shown to the left of the main article.
Main Article
Edit
The article referrers the ongoing strained relationship between Aberwelle and Khala noting a great war occurring fifty years prior over the unapproved sealing of a Khalan citizen. Current peace talks between the two nations have recently been put on hold over a land dispute. The article reports on Prime Minister Asher Throne presenting the Khala ambassador, Rajani Adali, with a painting by John St. Claire.
Rajani Adali calls the portrait "delightful." The article describes the Khala ambassador as an "exotic beauty" and the paining's portrayal of Miss Adali has a primitive connotations. The author's note suggests Adali is mortified by the painting's subtext.
Other Articles
Edit
Snippets of other news stories are can be sen in the annotation:
The left article discuses different seals, including trapping and locking seals, in the format of an explanatory/how-to guide
The right article mentions Master Harris and Master Ewan Peters by name. In the article, Harris asks citizens to be on the lookout for "a woman with extremely curly red hair," likely referring to Tamaura, who Harris recently lost after his rescue attempt. Peters' disability is mentioned in the article, as well as his desire to continue his work. It's suggested young ladies are interested in the health and recovery of Peters; he instead directs them to donate funds to help young scholars.
Additional Article
Edit
An additional article is posted below the annotation. A snippet of the article occurs in the left of the main annotation.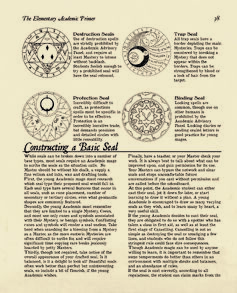 Author's Comments:
Here's the whole page from the side-- I was going to include this as a full annotation but it doesn't really work with just four seals so I would have had to design dozens of seals and... I REALLY DON'T WANT TO YET. So pretend this is like page 10 of basic seals and NOT all seals are based on those four since that is wrong.

Everything is called a seal BTW-- the one they use on the Orphics is called the Great Seal and is the only seal you'd refer to as a Seal.
Story Significance
Edit
Author's Note
Edit
Author's commentary can be found in the title text of the comic:
In reality, Rajani was mortified that a picture like that was painted without her permission. "Subtle," she remarked under her breath, before shaking the Prime Minister's hand.