Harris' Desk
Annotation 11 immediately follows Annotation 10, preceding the beginning of Chapter 3. The annotation occurs in the break between Chapters 2 and 3.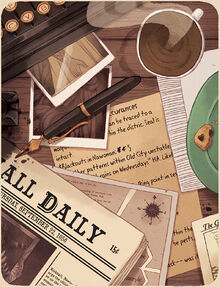 The annotation is a picture of Harris' Desk, shown to be rather messy.
The desk of Harris, including a hot drink, two pictures of Tamaura; a plate with pastry crumbs; the Map of Kirkhall (Annotation 10); The Great Seal excerpt (Annotation 7); a fountain pen with spilled ink; a typewriter; a handwritten notes discussing seals and recent blackouts in Nawonan; and a newspaper dated Thursday, September 22, 1050 with the Kahalan Ambassador portrait article (Annotation 9).
Story Significance
Edit
Author's Note
Edit
Author's commentary can be found in the title text of the comic:
The best desks are the messiest desks.